I am just now (or maybe always – insert grin here) obsessed with tools and gadgets. Especially tools I need (want?) for my home improvement projects.  This post is about 5 DIY Work-at-Home tools you didn't think you need, but when you've scanned the list, you'll think you need NOW!I just this morning re-read this article at Huffington Post – 5 Home Tools You Never Knew You Needed
In the article they mention the tools you thought you needed: hammer, screw drivers, etc. and draw your attention to five tools you might not have thought about but really need.
I have a friend that is a DIY home improvement type and he has given me a couple of work-at-home tools you might not have thought about but would find VERY useful as you work on home improvement projects.
DIY Work-at-Home Tools – Gifts or Loaners
1. Non-Contact Voltage Detector: especially for electrical shock phobic newbies (or oldies) like me. Here's what it looks like and where you can get one of your own.
I have someone else deal with most electrical jobs (like wiring in my new bathroom light/fan unit), but I like to be able to check whether the power is REALLY off when I'm preparing to work with light fixtures or electrical outlets.
2. Stud Finder: Again, especially for women of a certain age (Ooops! I don't really mean that kind of stud.)
I have added a lot of shelving in my utility room. Without a stud finder, my search for a place to securely fasten my brackets to the wall looks like this: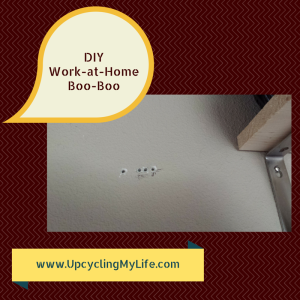 Make sure to have a stud finder on hand before you start drilling into the wall. (Here's where you can find one at Amazon – just click here.)
A stud finder is helpful for finding what you DO want, like a stud to screw into to hold something securely fastened to your wall. It's also helpful for finding what you want to AVOID hammering into, like metal under a floorboard or in the ceiling.
This is what it looks like:
3 More Work-at-Home Tools on My Wish List
3. Cordless Power Tools: especially for DIY grandmas.
Although I have gotten some deals on individual power tools at local yard sales, I covet a set of cordless power tools.
There are three really good mid-price range brands that I've shopped for: Black & Decker, Ryobi and DeWalt. I need these because I am too weak and awkward to be trailing power cords and extension cords and I need machine power to set screws and drill holes. I like the sets because they bundle some valuable items and a couple of tools I anticipate needing even if I'm not using them now.
This is my favorite set that comes with two re-chargable battery packs (and a lime green, heavy duty carry and storage bag:
4. A Paint Sprayer:
Since I do tons of painting for my home improvement projects and upcycling & refurbishing furniture, I want a paint sprayer. The best benefit of a paint sprayer is the smooth coat achieved with paint, stains or sealers.
I've been reading reviews of paint sprayers by furniture painters who blog, and this is the best-in-class cheap starter sprayer for me:
After looking through this brand's products offered at Amazon.com, I might shop for the slightly more expensive version set up to be used both indoors and out.
5. A Pull Saw:
Saws are not your friends in hard to reach places, but a pull saw cuts on the "pull" stroke. It's easier to handle and cut than your usual saw. I haven't looked for one yet but this one was featured in the Huffington Post article (link in beginning of this post). It's on my "Wish I Had It Yesterday" list.
I favor this Japanese-style pull saw set I found when shopping because it has two choices of blades, a comfortable grip and comes as a set in a case. (I've had a couple of serious scrapes from saw blades loose in places I've reached into to grab a tool or part.)
Your Favorite Work-at-Home Tools?
What have I left out? Do you have work-at-home tools to suggest to upcyclers and DIY home improvers? Please leave your suggestions in the comments below!